If you ask me, I wouldn't really call this a salad. It is so much more than a salad. But hey, this is Jamie Oliver's recipe…if Jamie calls it a salad, it's a friggin' salad.
Heck, if Jamie decides to call this a dessert, I aint gonna argue. In my books, Jamie Oliver simply can do no wrong.
Have you seen his shows lately? How is it possible that his face food gets increasing stunning with each new season. It's getting quite ridiculous, really. Swoon…
..Ok, where were we? ..oh yes..the salad! I was gonna say some smart things about the salad..
*clears throat*
Recently, I've been trying to find interesting weekday meals that are light, with very low or no carby/starchy elements. The reason being, that both my husband and I have gained some oh-shit-i'm-nearing-30-years-old weight.
You know.
That spare tire that begins to form around your waist magically and makes you do a double take when you pass by a mirror unaware. The one that makes you aggressively pinch your belly rolls and go "but I NEVER had fat THERE! And I used to eat WHATEVER I wanted!"
..Yep. Happy days.
So anyway, such dishes, I find, are usually deeply unsatisfying. You are left, technically, full, but feeling somehow cheated and yearning for something more substantial and comforting…some steamy rice or fluffy potatoes maybe…or perhaps a sinful dessert to make up for what you feel you've missed out on.
For this reason, this dish is a winner and has earned a spot on my weekly (or sometimes bi-weekly) rotation. It is a perfectly complete meal. It has the crunch. It has the freshness. It has the salty, savoury depth. Every single bite is a flavour party for the taste buds and it leaves no yearnings or disappointments as an aftertaste.
Are you sold yet?
Wait, there's more!
Another big tick for me is that it uses up that leftover
roast chicken
hanging out in the fridge, all cold, sad, and lifeless. We love roast chicken and frequently buy a rotisserie roast chook from the grocery shop, but seeing as we are only two people, we never eat more than half of it in one sitting.
Thankfully (and somewhat miraculously), this recipe breathes life back into that once plump, juicy bird.
A little light pan-roasting of the wrinkled-up skin and dried-out chunks of flesh transforms these miserable leftovers into tasty morsels worth fighting over.
Combined with hearty lentils, a plethora of greens, and a dressing that packs a serious punch, this dish is one I guarantee will be making reappearances at your dinner table, as it does at mine.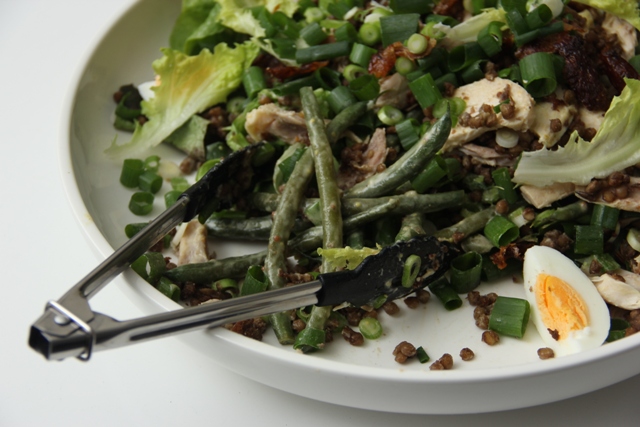 I could not find the exact recipe on Jamie's website, as this is from one of his newer shows and so will be going into his book, so I have adapted it from memory and to suit my taste (I may or may not have been slightly distracted while watching the show). As always, feel free to experiment and omit/add/adjust to your liking.
Jamie Oliver's Frenchie Salad
Ingredients
FOR THE SALAD:
½

leftover roast chicken

you may use any cooked chicken, grilled or even poached

400

g

green beans, trimmed

I sometimes use tinned cooked lentils, easier and faster

400

g

cooked brown lentils

I sometimes use tinned cooked lentils, easier and faster

½

a head of lettuce of choice, torn 

4

spring onions

finely sliced

3

eggs

(optional)

3

tbsp

olive oil 
FOR THE DRESSING
2

tbsp

Dijon mustard

1

clove

garlic

finely minced

1

tbsp

honey

2

tbsp

olive oil

2

tbsp

vinegar

I use white/red wine or apple cider vinegar 

Salt & pepper to taste
Instructions
If making with the eggs, place eggs in a large pot, cover with cold water and place on high heat. Cover and bring to the boil, and cook until preferred doneness (12 min for hard-boiled, 6 min for medium-boiled, 3-4 min for soft boiled). Once cooked, remove the eggs from the pot and set aside to cool slightly. Do not discard the water, add one teaspoon of salt to it and keep it boiling to cook the beans later.

Meanwhile, in the bowl you will be serving the salad in, make the dressing by combining all the dressing ingredients together and whisking till well incorporated. Set aside.

Heat a non-stick pan on medium-high. Remove the chicken skin from your roast chicken and tear it by hand into the pan. Cook it for 4-5min, tossing frequently until it crisps up and is sizzling (think of these as chickeny croutons), then remove and set aside. Now add 1 tbsp of oil to the same pan and add your chicken (cut into bite-size pieces). Cook for 4-5min, tossing frequently until heated through and lightly browned and crisped up in parts. Remove from pan and set aside. Finally, in the same pan, add the remaining 2 tbsp of oil and add your well drained lentils. Cook for 5-6min until heated through and slightly crisped up, remove from heat and set aside.

Add your green beans to the pot of salted boiling water. Cook for 4-5min until tender but still crisp and 'al-dente', just not squeaky. Drain the beans and add directly into the serving dish with the dressing. Toss to coat well, as it will absorb the most flavour while still warm.

Assemble the remaining ingredients: place the lettuce, lentils, chicken, green onions and chicken skin on top of the beans. Peel and quarter the eggs and arrange around the dish. Serve immediately. 
Nutrition
Calories:
345
kcal
Carbohydrates:
26
g
Protein:
14
g
Fat:
21
g
Saturated Fat:
4
g
Polyunsaturated Fat:
3
g
Monounsaturated Fat:
14
g
Trans Fat:
0.01
g
Cholesterol:
123
mg
Sodium:
134
mg
Potassium:
465
mg
Fiber:
9
g
Sugar:
7
g
Vitamin A:
311
IU
Vitamin C:
4
mg
Calcium:
53
mg
Iron:
4
mg
My name is Noha.
I'm passionate about food, an avid traveler, and I love to explore new cultures and cuisines whenever I get the chance by sharing my recipes and experiences with my readers.
A big fan of exploring different cuisines and always looking for new and exciting flavors to explore. I'm especially interested in healthy eating and finding ways to make delicious dishes without sacrificing nutrition.